About the only people that haven't played Saturday hockey are the Three Stooges...well at least Moe, Larry
and Curley anyway.
It wouldn't be Saturday if: Dave "The Choppa"Peppe didn't pass the puck straight up the ice to the other team. Coach George, explaining what we did wrong, we miss George who has now retired. Raymond laughing at me hen I miss the open net. Bennie eating pizza before playing. Paul Cecca trying to get out of paying twenty bucks, then asking for beer. Gordie, Barrel Assing down the ice and saying I'm sorry for knocking you on your butt, I didn't mean it! Gordie is now on our official L.A.P.D. list, Lost And Presume Drunk. Raymond eating his peanut butter cups before he plays.
Remember!! My corner in locker room one belongs to me,Thats my spot!!!
Drinking beer in the shower only works at hockey.
Who comes to Hockey more Mark Downie or Jon Freehling? Seems that Mark won in 2002-2003 Jon is lost forever playing with his new friends on Fridays at (of all places) Hockey Town, we have recently seen Big Jon on Saturday Jan 10th 2004. Guy has turned pro and doesn't play with us anymore. Bill Jordan is slowly buying hockey equipment, it took him ten years to get rid of the white painted helmet that was falling off his head, and this year he's sported new socks and jersey (looks like his horse came in).
The years go by and faces come and go. Some return, some don't. For most of us our days are now numbered. Anytime you can get on the ice for a bad game is a good day. Anytime you can put the bisquet between the pipes makes it even better. The days of hat tricks and skating end to end are few. The equipment bag just a little heavier and the beer tatses that much better. After five knee operations, pulled groin, and cortizone shots in my lower back, I'm stil not ready to quit. I can still say I play hockey with one of my best childhood friends, I'm lucky. We play for the fun of it, we play for the locker room antics. We play because we love the game.
October 14th 2001
October 7th 2010 and running out of time.
Bobby and Gerry never played Saturday Hockey. But I think I can say it's because of them that we do. I have been lucky enough to play with former Bruins, infact the spring before he turned pro Shawn Bates played Saturday Hockey with us. He made it look like we were standing still.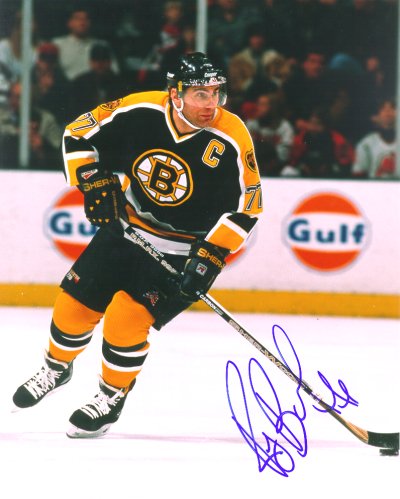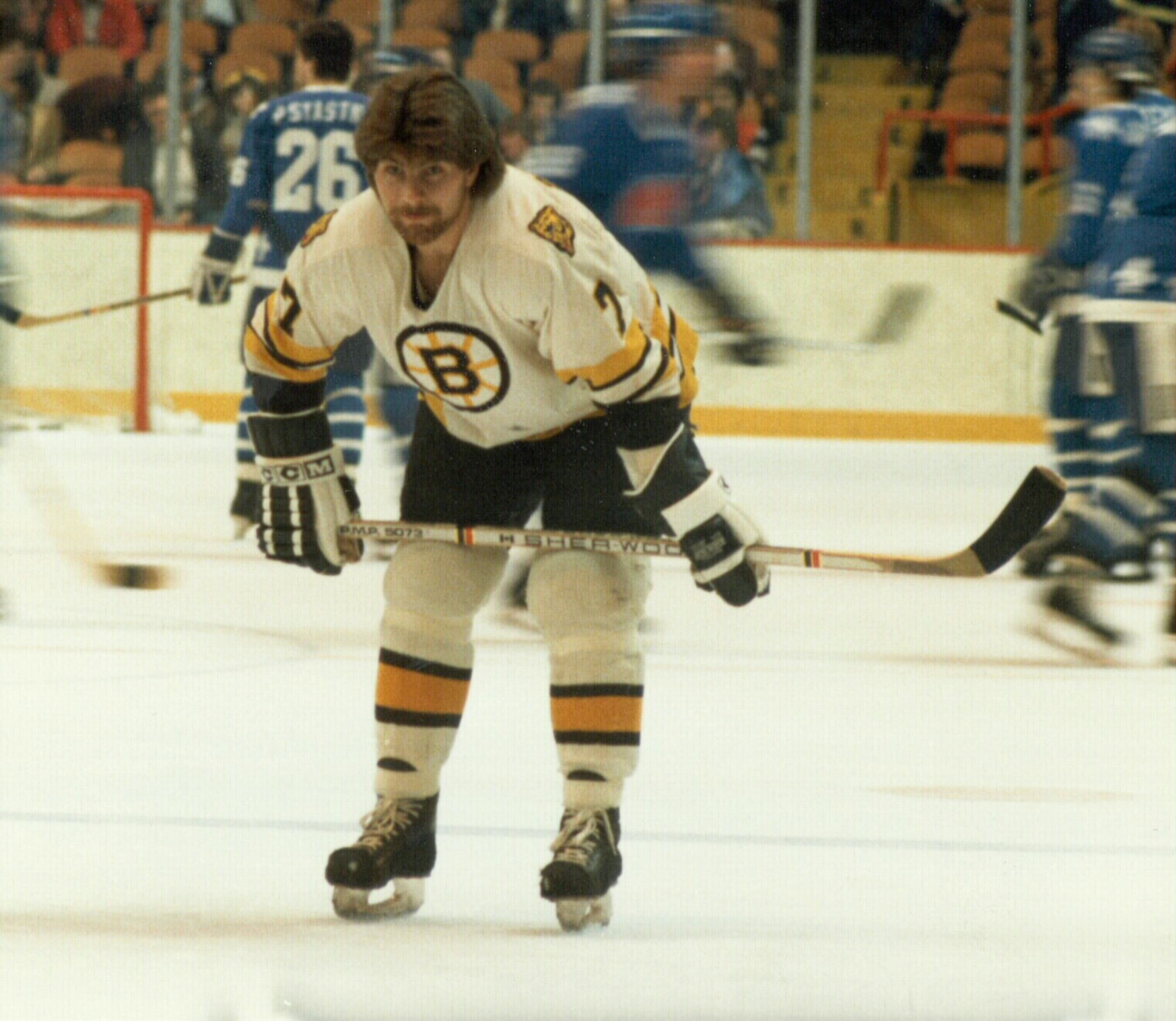 1981 Play-offs Vs. Quebec Nordics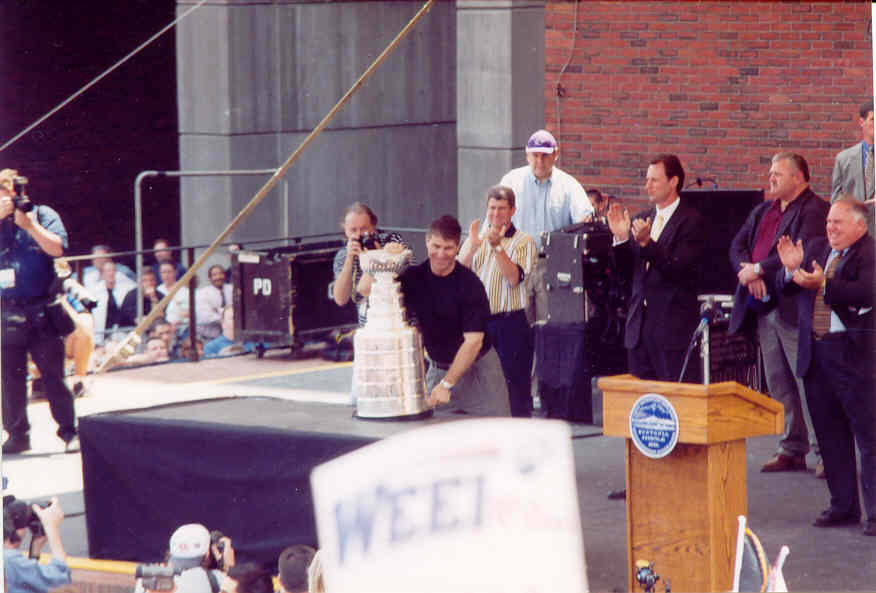 Ray and Stan, May 2001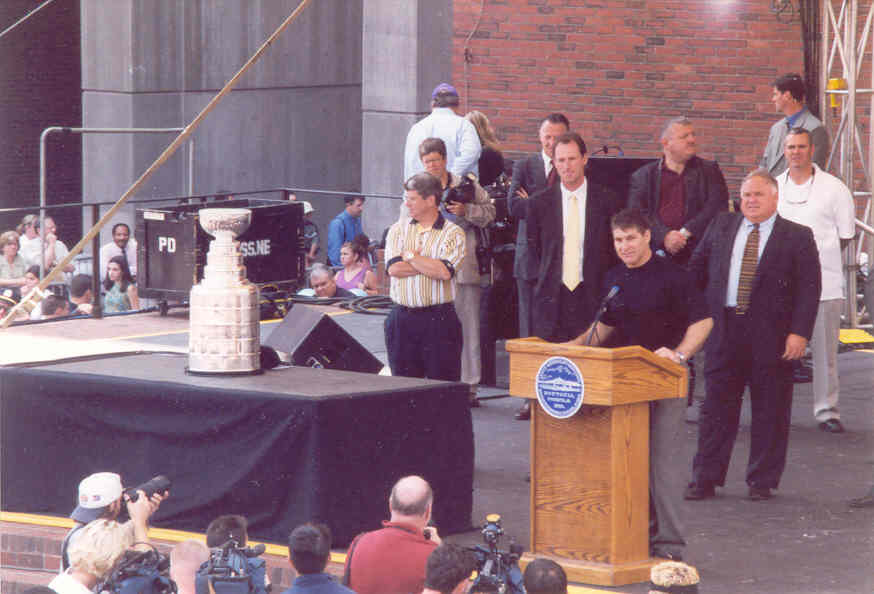 YaDa,YaDa, YaDa....and the Cup, My Fans.....
AND The Bruins are LOOOSERS!
Ray and Stan going out for drinks....
Biggest crowd on City Hall Plaza since the Celtic in 1986.
Ray Bourque Photos by Jim Ravagno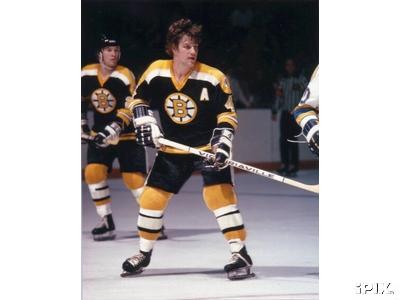 Bobby Orr, Fire on Ice!!!
#16 Derek Sanderson, one of the best Poke Checkers in the game. His brason style of play has always been a favorite withth Boston fans.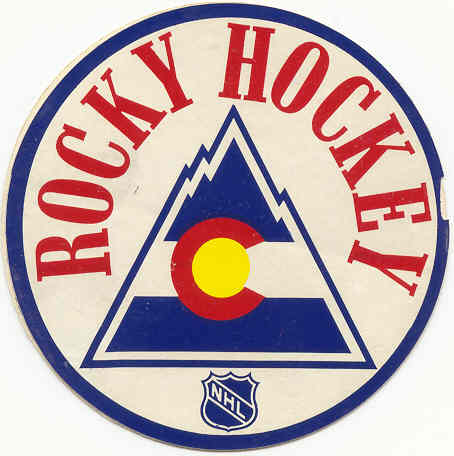 The Rockies were the first NHL team in Colorado, They didn't draw and eventually moved to another City. Do you know who they are today?
I got this in 1985 from the old Aud in Buffalo. It was stuck on a ceiling heater in the visiting team's locker room.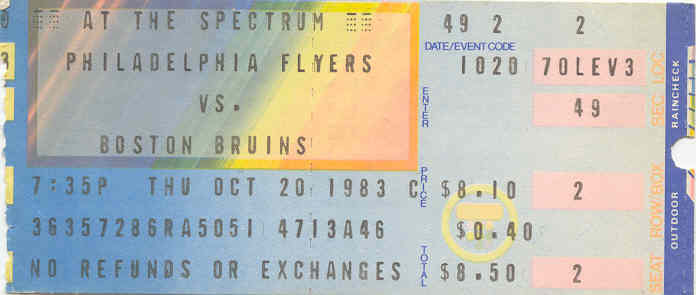 I was in New Jersey on business, I was flying out of Philly that night. The Bruins were playing the Flyers that night so I went to the game and almost got my ass kicked.
The Bruins Won!! I got home alive!!